WHAT

 is a JA SmartLock (GPS Lock)?
JA SmartLock:
High Security Intelligent Keyless Padlock with GPS and GSM Capabilities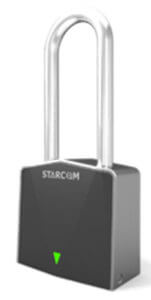 JA SmartLock is a IOT Based Keyless High Security GPS Padlock that can be Remotely Opened. With Tamper-proof Fixed & Flexible Shackle options – it functions as an Electronic Alarm System providing Real-Time Alerts to Attempted Breaches.
---
WHO should use JA SmartLock?
If you are looking for:

An ideal autonomous solution for remote locations

An ideal solution for hard-to-reach locations such as water lines, high antennas and surveillance cameras, where the physical inspections of locks is labor and time intensive

High level of security and monitoring of transported goods

The right steps to take to protect your personal property

High Security for storage units, storefronts, vending machines and commercial equipment
WHERE JA SmartLock can be attached?

Be creative, the options are limitless!
WatchLock is a Smart GPS Lock that you can attach to anything valuable.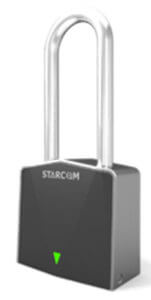 Security
High Security Padlock with Fibre Optic Equipped Shackle to Detect any Attempted Breaches.
GPS & Cellular Tracking
JA SmartLock keeps you updated constantly of its location and the location of your guarded assets, through GPS and cellular connectivity with Worldwide Coverage.
IoT Based Keyless Padlock
JA SmartLock can be remotely opened. Doesn't require a key.
Wire Free
No wires at all! A Long Lasting Battery powered Solution with Low Power Notifications.
Bluetooth Low Energy
Connect to nearby Devices and Sensors, to create a Smarter Security Network and Monitor your Assets more Effectively.
One-of-a-kind Flexible Shackle 
JA SmartLock can be fitted with a Flexible Shackle, Customizable in virtually any length, giving the option to Secure Anything with Ease.
Impressive and Cost Effective
Offers Customised, Flexible, Sophisticated Security at an Affordable Price. 
Saves Cost, Time and Physical Intervention, with Remote Monitoring Capabilities.
Suited for different market
JA SmartLock can be used in Remote Facilities, Sea, Truck or Rail containers, Retail stores, Transported Goods and more.
User management Tool & Mobile Application
Keep a full log of when it was opened, by who and for how long. You have the option to set and customize alerts for any event.
With Tracking in the palm of your hand using our Fast and user-friendly Application interface. Receive Instant notifications with any irregular event. Available for both iOS and Android-based devices.
HOW JA SmartLock can help you save cost?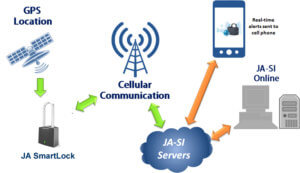 Embedded with GPS capabilities.
SmartLock is battery operated, with no external power source required.
Uses Cellular technology that communicates the lock's status, while allowing you to choose the communication device of your choice, whether cell phone, PC or tablet.
Keyless Padlock – It eliminates the need to maintain and distribute keys, which may get lost or broken.
On-line access anywhere, any time.
Real-time data with Full log of when it was opened, by who and for how long
Ability to capture valuable data for future planning.
Customized alerts for each of your monitored units.
Automatically generates reports on a daily/ weekly/ monthly basis, with specified data.
All-in-one solutions for entire range of devices.
---
WHEN JA SmartLock can be used?
Remote Locations
Security Companies
Customs Operations
Commercial & Retail
Personal Use