Freightcheck is the leading monitoring real time solution for ensuring safe delivery of containers from origin to destination.
FreightCheck:
The Monitoring Solution for ensuring Safe Delivery of Containers from Origin to Destination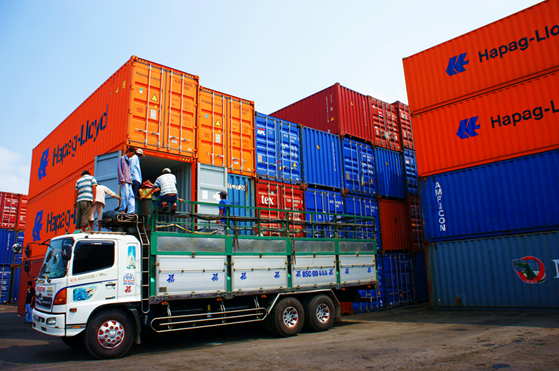 Both solutions based on GPS, Cellular and RF technologies.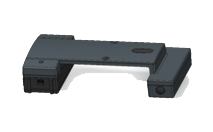 FreightCheck :
Detects in Real-Time container position, door opening, break in, blow or damage. The installation takes 30sec only. This container tracking solution is Patent Pending and tested and approved by Lloyd's.
FreightCheck for Reefer Containers:
Detects in Real-Time a deviation from temperature range and a predefined route, damage from an accident, an attempt to break-in and an unauthorised container door opening.
Additionally:
Built-in

temperature and humidity sensors

(Accuracy: ±0.2°c)
Connection via RF to external

temperature and humidity sensors

Built in Light sensor: 360 degrees

USB connector: For initial setup and to collect data which have been logged

Long battery life: Over 3 months!

Easy installation and activation: Takes 60 sec only
---
WHO should use FreightCheck?
The FreightCheck container tracking system serves and provides real time data to all parties interested in the delivery of a shipment, such as: logistics personnel, supply chain managers, sales, security, insurance, finance, suppliers, customers, shipping companies and customs. It allows all those involved, to coordinate their efforts to ensure that shipment obligations are being met, or in times of need, to take action immediately and in an orderly manner.
---
WHERE FreightCheck should be installed?
The unit is attached to the container door frame with a magnet.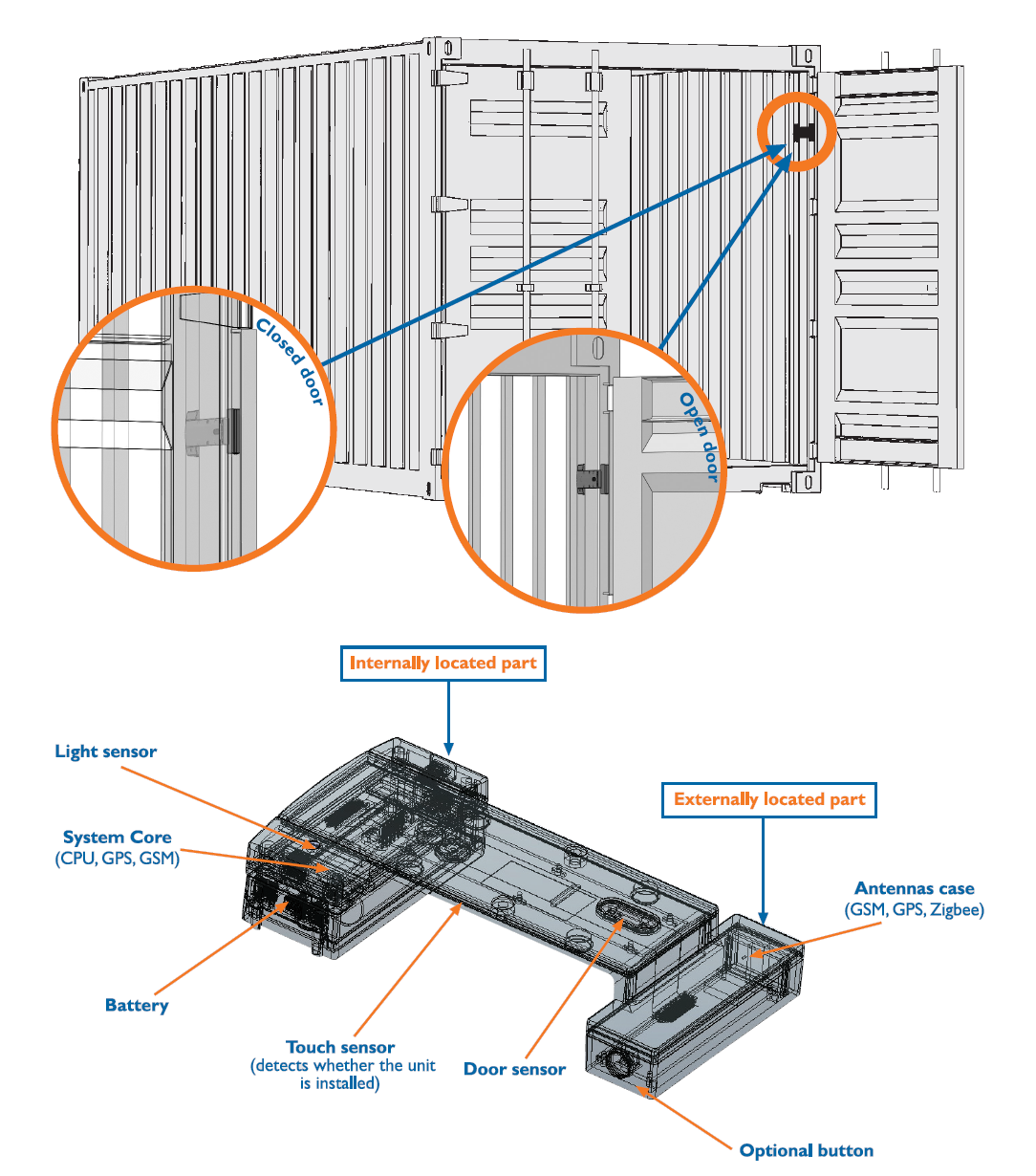 WHY

FreightCheck should be installed?
Maximum Control
of a wide range of possible events and situations with its built in sensors, system stability and continuity and its unique ability to remotely protect your cargo 24/7.
You can Manage
and prepare for those unpredictable supply chain disruptions. By being able to prevent any further delays or damage, you can inhibit any possible loss of merchandise, and ultimately loss of money.
You Maintain Stability
due to the state of the art OTA ability to remotely upgrade the unit with new features and also change settings within the existing firmware of the unit.
You Gain a Competitive Edge
in customer service; with real time technology and information at your fingertips at all times, JA-FreightCheck increases operational efficiency and keeps your customers satisfied.
You Enjoy the User-Friendliness
of the system, due to its all-in-one solution base and its fast and easy installation. In only a few simple steps, you can also define the alerts, reports and destinations you need through the On-line system.
You can Rely on the built-in sensors
to operate simultaneously to collect data regarding various aspects of your cargo's position and condition, allowing you to stay well informed about your containers' status in real time.
You are assured that the JA-FleetWatch system was tested and approved to meet the strictest standards of the world's leading organizations.
---
HOW FreightCheck can help you save cost?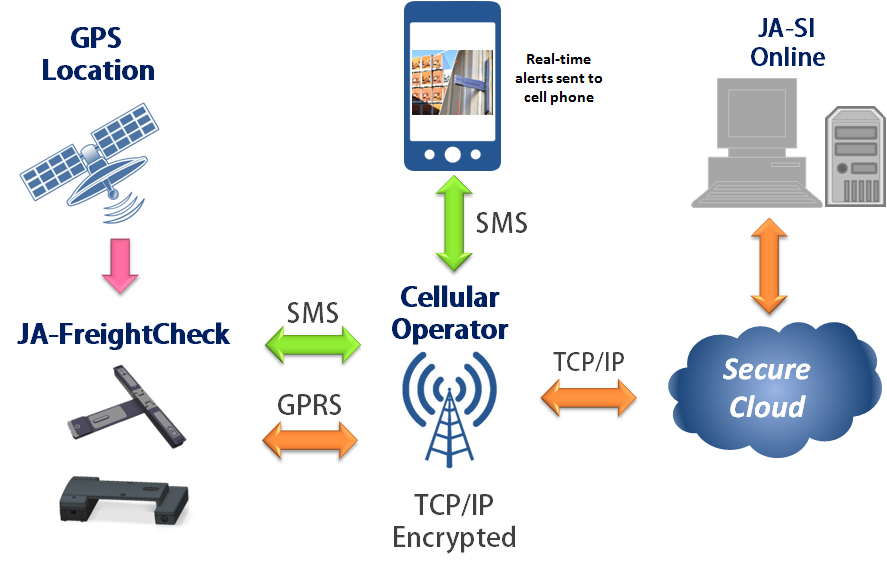 The features and functions made available by the FreightCheck, leading container tracking device,  provides access to information that is reliable, accurate and delivered in real time, allowing them to keep track and monitor a wide array of parameters and situations. Ultimately, its performance gives full control over dry containers and reefers worldwide.
The information that FreightCheck can provide can help insurance companies, cargo owners & freight forwarders as to the circumstances around lost or damaged goods. Following testing by environmental test laboratories, our solution was endorsed by Kiln, a Lloyds of London underwriting syndicate, in May 2012 as satisfying a key policy condition of its high value cargo insurance.
FreightCheck, Container Tracking device, can provide real time updates on the location of containers as opposed to the alternative, offline and delayed data.
---
WHEN FreightCheck can be used?
High Risk/Value Cargo
These are goods that demand a higher standard of security:
High value items such as computer equipment, metals and electronic equipment.

Items that have a high chance of being stolen owing to their physical attributes; being small, lightweight and easy to transport such as perfumes, cigarettes and smartphones.

Security related cargo such as firearms or confidential equipment.
Temperature Sensitive and Special Handling cargo
These are goods that require monitoring and maintaining in special environmental conditions.
Perishable Cargo such as chilled fruits and vegetables or frozen meat and fish, all require a reefer with the utmost in system reliability in order to avoid spoilage.

Healthcare and Chemical Supplies such as medical syringes or hazardous substances all require special handing to ensure safe delivery.
Time Sensitive cargo
These are shipments where the date of delivery is of particular importance and can include exhibition equipment, goods for a limited time (sales) or season related items.
Prohibited items
These are shipments that are considered unsafe or are items that are banned from entering the country, examples include drug and human trafficking. FreightCheck, container tracking device, can also be useful for preventing "customs avoidance" schemes.
Security
FreightCheck, Container Tracking Device,  can serve as your electronic seal, monitoring and ensuring that your container and cargo arrive safely to its destination.