Vehicle Tracking Malaysia
Extracted from VTREC Website:

Private Car Theft by State ( Jan – Jun 2013 vs 2012 )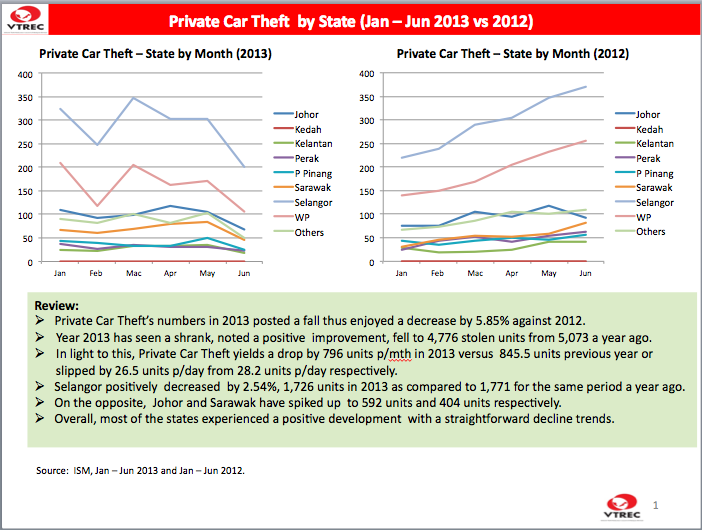 Let's be real! Any car is vulnerable to car theft..
Some vehicles require a longer time, but most can vanish as fast as 60 seconds. Stop this from occurring by adopting several security measures to make your vehicle hard to steal. The National Insurance Crime Bureau of the United States endorses a "layered approach" to vehicle security. The steps differ from vehicle to vehicle and susceptibility to risk is up to your personal preference and budget.
THE 4 STEP CAR SECURITY APPROACH
Your vehicle may be the next target of a car theft syndicate, so reduce the risk by follow these four steps. It's a negligible investment for a major potential loss.
Step 1 – Apply Common Sense
Practise common sense. Do not drive to or park at high risk areas. Protect your car, even if it is for a short while and always:
Do not leave your keys at the ignition

Lock the doors and windows of your vehicles

Park in a location where there is ample street light


Do not leave valuables in the car, that is in the line of sight of someone
Step 2 – Get a Warning Device
 Fit an alarm or install a locking devices like these in your vehicle for security:
 Sound alarms

Steering Wheel Locks

Identification marks that are unique to your vehicle

Step  3- Snowmobiling Device
Electrical devices can stop thieves from circumventing the ignition or hot-wiring your car:
Smart keys

Fuse cut-offs

Kill switches

Starter, ignition and fuel disablers
Step  4 – GPS Tracking Device
Install a tracking device in your car so that you are able to track the vehicle using your smart-phone or desktop. The FleetWatch from JA Security also allows you to remotely immobilize or gradually stop your vehicle, from a click of a simple button.

JA-SI provides vehicle tracking malaysia solutions. Please contact our Malaysia office or email info@ja-si.com for inquiries. Click Here for More Information on our innovative GPS Tracker for Malaysia.